BPSC 67th Result: Four women shine in top five, Aman Anand of Patna topped
What's truly remarkable is that among the top five successful candidates, four are young women. In the top ten, six female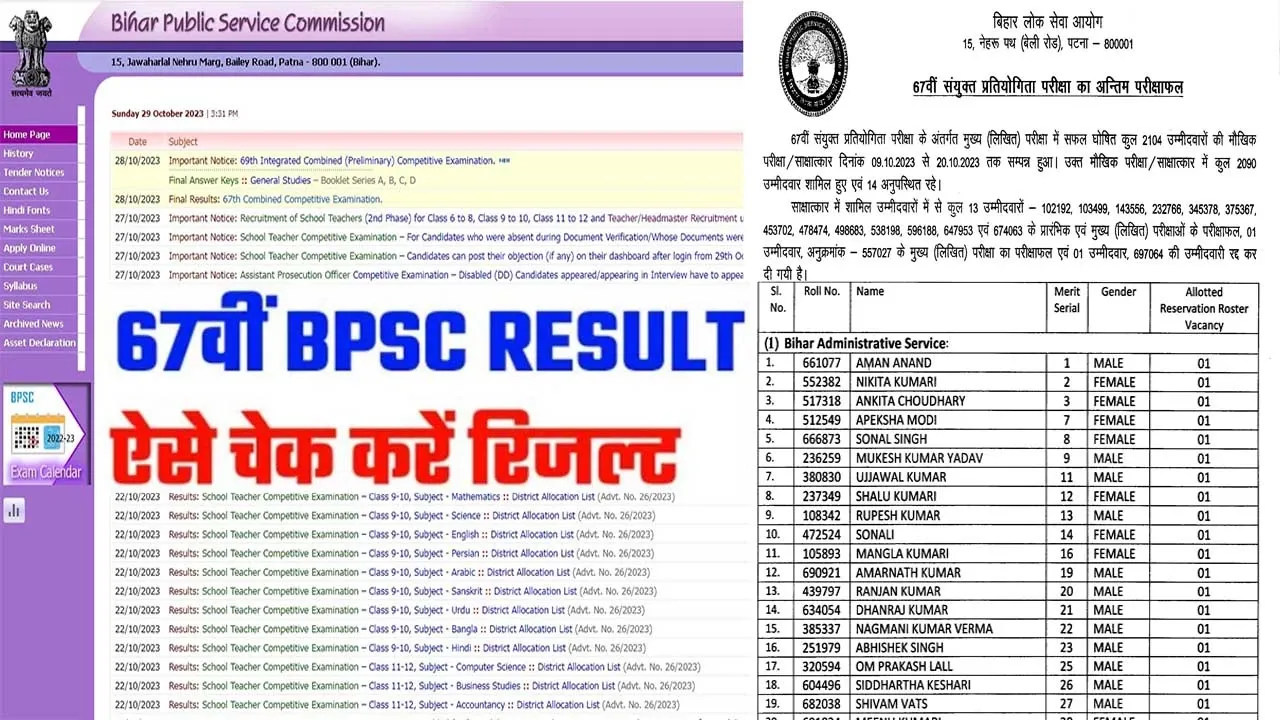 What's truly remarkable is that among the top five successful candidates, four are young women. In the top ten, six female
The Bihar Public Service Commission (BPSC) has declared the results of the 67th examination (BPSC 67 Result), and it's excellent news for the state of Bihar.
A total of 799 officers will be serving the Bihar government following this examination. Out of the 2090 candidates who faced oral interviews conducted by BPSC, 799 have emerged victorious.
What's truly remarkable is that among the top five successful candidates, four are young women. In the top ten, six female candidates have clinched their positions.
The second through fifth positions in the BPSC results are dominated by talented young women. Notably, two more women secured the eighth and tenth positions. Among the BPSC toppers, Nikita Kumari secured the second position, Ankit Chaudhary claimed the third position, Apeksha Modi stood at fourth, and Sonal Singh secured the fifth position. Additionally, Shalu Kumari and Sonal claimed the eighth and tenth positions in the top ten, showcasing the impressive achievement of female candidates.
Aman Anand from Patna became topper

Aman Anand emerged as the number one topper in the 67th BPSC examination. Aman hails from Bedhna village in Barh, Patna district. He previously passed the 66th BPSC exam and secured the 54th rank. Subsequently, he was appointed to the position of DRDO in Madhubani district and underwent training. However, Aman's determination led him to appear in the 67th BPSC exam, where he ultimately emerged as the topper. It's worth noting that Aman's father is a government teacher, and his mother is a homemaker.
The 67th BPSC examination has selected a total of 799 candidates, including 88 officers for Bihar Administrative Service and 20 officers for Bihar Police Service. Additionally, 21 candidates will serve as State Tax Assistant Commissioners, three as Jail Superintendents, and four as Sub Election Officers. Four candidates have been selected as Additional Directors of Child Protection Service. Furthermore, 52 candidates have been chosen for the position of Assistant Plan Officer/Assistant Director, and an additional 52 candidates will serve as ST Welfare Officers.
The 67th BPSC Main Examination took place on December 30, 31, 2022, and January 7, 2023, in Patna. A total of 2104 candidates successfully passed the mains examination and were subsequently called for interviews. The final results have now been officially released, cementing the success of these dedicated individuals.
Download Pdf of 67th BPSC Result : Click Here